Making a vitamin C serum at home is 100% doable and pretty inexpensive compared to spa brands. I purchased vitamin C powder from my health food store, and started playing around with various ingredient combos using 90% base ingredients and 10% vitamin C powder.   
Vitamin C plays an important role in skin health due to its antioxidant properties. Just think about everything our skin must work to fight against. Vitamin C aids in the repair and renewal of skin cells. This repair and renewal helps keep our skin looking youthful and healthy. This is a natural process that's continually occurring within the cells of our skin particularly when we sleep. Our skin is very smart. But sometimes our skin needs a bit of help, especially as we age or experience major life events like pregnancy or too much sun, so adding vitamin C to a skincare routine may help someone like myself–a gal frustrated with brown spots and scars.   
Some sources encourage starting with a ratio of 5% vitamin C powder and 90% base (water and aloe are my "base" ingredients), then increasing to 10% vitamin C powder and 90% base, and finally 20% vitamin C power and 80% base. Feel free to work out the math to meet your own skincare needs. The formula is roughly 16% vitamin C powder and 84% water and aloe.   
Ingredients · 1 tsp vitamin C powder · 1 tsp filtered water · 1 TB aloe vera gel + 2 tsp, I think aloe juice may also work in this recipe. I haven't personally tried aloe juice in my serum, yet. · 1/4 tsp vitamin E oil optional   
Instructions 1. In a small bowl, combine the vitamin C powder and filtered water. Whisk the ingredients until the vitamin C powder is completely dissolved. Once dissolved, stir in the aloe vera gel and vitamin E oil. 2. Pour the serum into a dark amber bottle (a funnel helps). Store the serum in the fridge for 1-2 weeks. Around the two week mark you may notice the serum's pH level change*. Your serum may have a different color and consistency, depending on the vitamin C powder and aloe used to make this recipe. 
Recipe Notes 
To Use:  Before bed, wash your face, then use a toner (if you use one), followed a small amount of Homemade Vitamin C Serum, and then a moisturizer. Gently shake the serum bottle before each use. The serum will be thick. In the morning, rinse your face before applying makeup and/or stepping out the door. Vitamin C Serum shouldn't be used during the day due to sun exposure.   
Recipe Variations: Vitamin C serum can feel a bit dry on the skin, so I like to add the aloe and vitamin E oil to help compensate for this drying effect. I've also used this ratio: 1 tsp vitamin C powder, 1 TB each: water and aloe vera gel. The trick to this ratio is applying a fair amount of moisturizer before the serum fully dries on the skin since it can leave your skin feeling dry at first.  If your skin is irritated with the recipe then decrease the amount of vitamin C powder at first (use 1/4-1/2 teaspoon) and slowly work your way up to more, if desired.   
Many sources call for using vegetable glycerin versus aloe, but I found glycerin to be very sticky on the skin. If you have glycerin on hand, it may be subbed for the aloe.   
pH Testing: According to research, an ideal vitamin C serum should have a pH of 3. For reference, a pH of 7 is considered neutral.  You can purchase a set of pH testing strips from Amazon so you can test each batch of serum. Vitamin C has a very a short life span. The serum may begin to fluctuate in pH when it's no longer suitable for use on the skin. A change in pH may result in more harm than good when you apply the serum to your skin. At-home pH strips are really easy to use, so if you're interested in testing the pH, I recommend purchasing a test kit.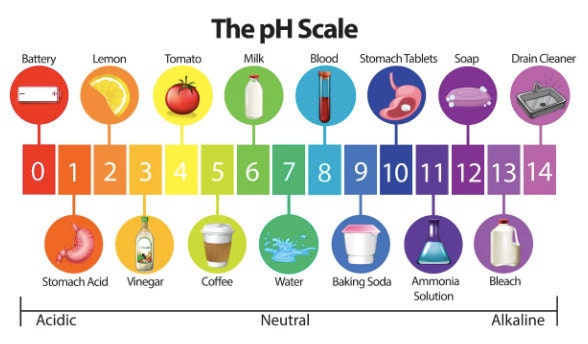 The serum should be refrigerated because vitamin C is very fragile, so to keep it "fresh" the fridge is the best place to store it. Shelf life is 1-2 weeks in the fridge before you need to make another batch.